Apr 12, 2012
Controversy Over Who Needs A Paler Va-Jay (VIDEO, PHOTOS)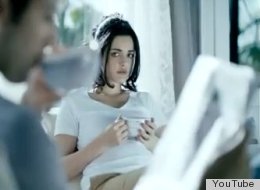 Do your ladyparts need some sprucing up? Like, color-wise?
Wait, what? We're soooo confused. But a new ad for an Indian skin lightening product called Clean and Dry Intimate Wash,
spotted by Jezebel
seems to answer that question with a big fat "DUH."
In the commercial, a couple lounges in their house, the man idly reading a newspaper while the woman pouts to herself because, clearly, he's ignoring her due to her dark-colored privates. Luckily, she gets ahold of Clean and Dry, which makes her vulva a few shades lighter, and her husband is happy-go-lucky again. Whew! Divorce averted.
Of course, some people think lightening creams shouldn't be a sociologically-charged issue, arguing that women who seek pale skin aren't any different than Caucasian women who want to be tan. (Or
this article
, which strangely argues that fair features are... easier to see?)
But regardless, when the ideal of light skin gets intimate, a beauty issue that's already controversial gets sexualized, and you end up with commercials like the one above that not-so-subtly blames your relationship problems on your skin t
Posted by

the elegant ape
at 10:57 AM
No comments:
Links to this post